Aleksandra Marszał-Bohdziul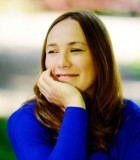 Never had I thought how revolutionary reaching for a book on coaching could be in my life. Having graduated from the Warsaw School of Economics I started a successful managerial career in corporate financing. Beginning with "Talent Management Trainee" in ING group through further positions I mastered my skills in managing people and projects. My work offered me many interesting challenges and development opportunities, but I somehow lacked a feeling of sense. After finishing my first coaching course I actively started working in this field and beginning 2010 I began training coaches (on behalf of Norman Bennett Academy, postgraduate studies WSM and Pricewaterhouse Coopers Academy). Finally I founded my own Coaching School WINGS. I create growth workshops, I write a blog and organize coaching expeditions.
Privately I am in a 15 year long relationship with the man I love and we are parents to three little rascals. Lately I have become fascinated with horses and tennis. I love going to concerts, listening to stories, lakes, forests and bonfires.
What is coaching for me?
Coaching is a meeting where new quality is created. Through a relationship built during the whole coaching process the Client gains an opportunity of discovering new areas, hidden potentials and in effect changing ineffective patterns. It is the Clients decision to what extent his/her coaching process will occure being ready to work on different subjects and areas. This way coaching can be helpful in solving various business issues beginning with finding a new sales strategy up to finding the sense of life. Coaching is like a dance for me. As a coach I tune to the Client offering him/her to take a step forward, back or to the side. This interaction stops the Client from spinning around and allows him/her to find new solutions.